In keeping with previous commentary the Turangi market continues to trend in a consistently positive manner, albeit with a spike in the monthly median to $455,680 on an annualised figure of $379,733. The 14 residential dwelling sales were augmented by a further 3 section sales, very much in line with the reporting period post Covid. The outlook for the final moth of the year is very similar with strong activity across the whole housing spectrum. As we approach the festive season and the tourist influx, it will be very intriguing to measure the impact of those NZ tourists on the local market, while other spending options are still curtailed.
(Source REINZ Statistics)
49
Number of sales in the last 3 months (39 Houses 10 Sections)
4.68%
Average sale price increased Annual moving median November 2019 - November 2020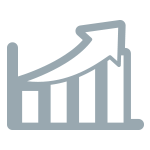 $379,733
Annual moving median - Houses, November 2020
Where do our buyers come from?
Local40%

Taupo20%

Auckland10%

Waikato5%

Hawkes Bay5%